PREPARING DOCUMENTS FOR PREPRESS
STEP 1: REMOVE UNUSED SWATCHES FOR GOOD HYGIENE.
For good document hygiene you should probably remove any unused swatches. Bring up the Swatches palette and choose Select All Unused from the palette menu. This will select all the swatches that you didn't use in your document and now you can simply click the Trash icon at the bottom right of the palette to remove them. (By the way, this step and the following steps don't necessarily have to be done in the order shown here.)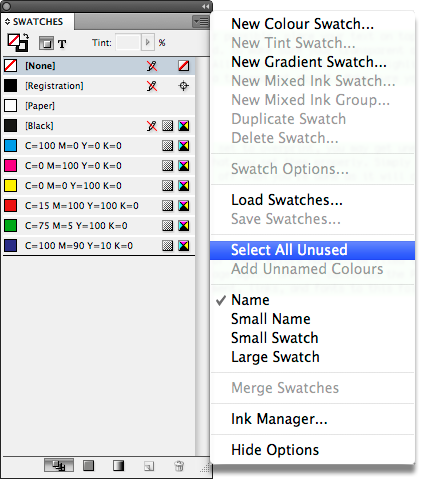 Choose Select All Unused and then click the Delete Swatch icon to get rid of unused swatches.
STEP 2: CHECK COLOURS BEFORE OUTPUT.
Next, you'll probably want to make sure that your document doesn't contain too many colours. For example, if your job is supposed to be four-colour process then you only want cyan, magenta, yellow, and black in your document. If your document is supposed to only contain black and one spot colour, then you probably don't want to see four colours.

To check this, bring up the Separations Preview palette from the Window > Output menu. It will immediately show you how many colours were used.
STEP 3: VERIFY THE STACKING ORDER.
Stacking order is important when using InDesign's transparency features. Whenever possible, place your text on top of your transparent objects. If your text is below your transparent objects, it can become rasterised. To make sure your transparent objects are set up correctly, bring up the Flattener Preview from the Window > Output menu. Choose All Affected Objects in the Highlight pop-up menu. This will highlight in red anything that either has transparency or anything that's under a transparent object. Make sure your text doesn't turn red. If it does, then arrange your text so that it's on top.
STEP 4: CHECK FOR OVERPRINTING.
By default, overlapping colours are set to knock out. If any of your objects are set to overprint, you may get unexpected colour results. Or if you have set some of your objects to overprint, then you may want to verify that you set them properly. Simply choose Overprint Preview from the View menu. This will show you the overprint results. Be sure to turn it off when you're done as it will cause InDesign to run slower.
STEP 5: PACKAGE THE DOCUMENT.
The Package function (File > Package) will run InDesign's built-in Preflight. Preflight is great because it can warn you about missing links, missing fonts, and images in the wrong colour space. Unfortunately, most of these errors have to be fixed in InDesign. If you receive an error that needs fixing, simply cancel and go fix the error and then run Package again. Once it satisfies the Preflight function, you'll be able to choose a location such as your Desktop and package a copy of the document, links, and fonts to this folder, which you can then give to your print service provider.

The Preflight dialog box displays errors in the document.